XBOX Game Pass Console (MEA) - 6 Months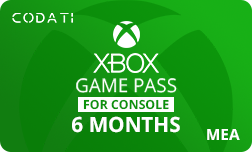 Warning:

Buy this product to get an instant code.
XBOX (MEA) Gift Card is only VALID for Xbox Live Account users registered in Middle East Region.
This card is not redeemable for cash or other cards, and it's not reloadable or refundable.