Mobile Legends (Global) - 345 Diamonds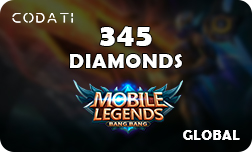 Mobile Legends (Global) - 345 Diamonds
Warning:

Buy this product to get an instant code.
This card is not redeemable for cash or other cards, and it's not reloadable or refundable

/shop/cdmlgl0345-mobile-legends-global-345-diamonds-538
Mobile Legends Diamonds cards is the digital prepaid code for Mobile Legends gamers to top up in-game credit for Mobile Legends, also known as Diamonds.
Mobile Legends diamonds allows users to unlock premium content and style your character.
Equip your hero with useful items like skins, rewards, passes and more.
You can also use Mobile Legends Diamonds to summon new heroes that will make you unstoppable and many more!