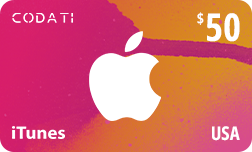 Warning:

Buy this product to get an instant code.
This product is only valid for accounts registered in United States.
This card is not redeemable for cash or other cards, and it's not reloadable or refundable

/shop/cditus050-itunes-usa-50-674
iTunes Gift Card code is redeemable for apps, games, music, movies, TV shows and more on the iTunes Store, App Store, iBooks Store, and the Mac App Store.
Recipients can access their content on an iPhone, iPad, or iPod, and watch or listen on a computer – Mac or PC.